Sharon P. Churchill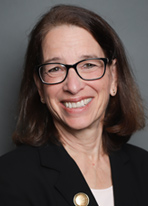 Ms. Churchill is a principal of the firm and a member of the Business and Finance Group. Her practice encompasses mergers and acquisitions, complex commercial contracts, securities law, corporate finance, and commercial finance. Sharon also has substantial experience with commercial real estate, trademark, utilities, and corporate governance and organizational matters. As outside general counsel to private companies, she has performed extensive contract review and analysis and furnished advice with respect to the diverse issues confronting commercial enterprises. These range from business relationships, financing, employment matters, regulatory matters, and strategic planning initiatives and negotiation, to intellectual property relating to trademark matters.
Sharon is familiar with both sides of venture capital transactions, and has guided clients from formation through recapitalization and equity financing, through the ultimate sale of their business. She has represented clients as both issuer's and underwriter's counsel in private placements and public offerings. She is experienced with state and federal securities law and regulatory compliance, as well as commercial matters. She also advises clients in complex equity and asset acquisitions and business reorganizations in various regions of the United States. Sharon has assisted clients in a variety of commercial real estate transactions throughout the country, including the acquisition, leasing, and sale of commercial real estate, as well as with the placement of conservation easements on historic properties, the latter primarily in Connecticut. She has successfully represented electrical energy supplier clients before state regulatory agencies in the eastern and mid-western United States.
Telephone: 860-493-2259
Email: schurchill@cbshealaw.com
Practice Areas
Education: Sharon is a graduate of the University of Connecticut (B.S. 1976) and the University of Connecticut School of Law (J.D. with honors, 1992), where she served as a member and Executive Editor of the Connecticut Journal of International Law and as a member of the Moot Court Board. Ms. Churchill also received the American Jurisprudence Award for Real Estate Transactions and The Connecticut Attorneys Title Insurance Company Award.
Bar Admissions: Connecticut
Professional and Civic Organizations: Sharon is a member of the Board of Trustees for Real Art Ways, a leading contemporary arts organization, and sat on the Executive Patient Advisory Board of Hartford Hospital. She was appointed by the Governor to, and served as vice-chairman of, the Historic Preservation Council of the Connecticut Commission on Culture and Tourism. Prior to attending law school, Ms. Churchill was the Executive Director of New London Landmarks, Inc., a non-profit historic preservation organization.