Christopher R. Shea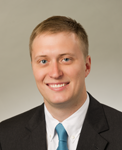 Mr. Shea is an associate of the firm in the Commercial Real Estate and Business & Finance Groups.
Telephone: 860-493-2255
Email: cshea@cbshealaw.com
Practice Areas
Education: Chris is a graduate of Middlebury College (B.A., Economics, 2007) and the University of Connecticut School of Law (J.D., 2011) where he served as a member and Competition Editor of The Connecticut Law Review. As a student intern, Chris also participated in legal clinics counseling nonprofit corporations and represented low-income taxpayers.